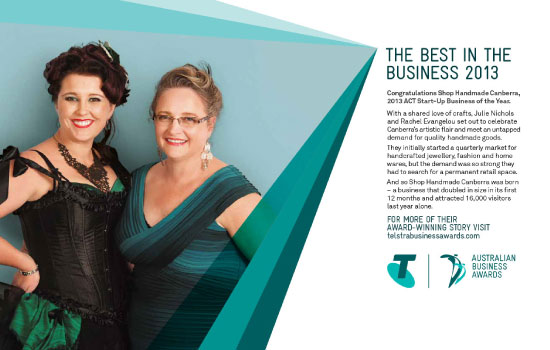 Handmade Canberra was recently crowned Canberra's best start-up at the 2013 Telstra ACT Business Awards.
Julie Nichols founded Handmade Canberra in 2008. After realising the massive untapped potential for a specialised Canberra-focused event, the Handmade Market was born.
"With our first 35 designers the Handmade Markets quickly became a local Canberra and regional phenomenon attracting handmade enthusiasts from around the country who wanted to connect," Julie said.
Newsletter
We package up the most-read B2B Magazine stories and send direct to your inbox. Subscribing is the easiest way to keep up, in one hit.
There is now an astonishing collection of over 150 talented designers at each event and the yearly attendances of approximately 85,000 visitors, with 14,450 being from interstate.
In 2010 Rachel Evagalou joined forces with Julie Nichols to open the gorgeous Shop Handmade.
"This beautiful retail space was devised as a natural extension of the highly successful quarterly Handmade Market, as the demand from designers and visitors for a permanent shopping destination for the, high-quality Australian-made, products seen at the Market was too loud to ignore," Rachel said.
Canberra now had a permanent shop front offering Australian-made designer goods and souvenirs.
The Handmade Market and Shop Handmade were the first, and only, ACT retail spaces offering only handmade and Australian-made goods. At least 60% of the products at both are sourced from designers who live in, work in, and are inspired by, the ACT and surrounding regions.
The Canberra Handmade Market is the National Convention Centre's biggest client with 150 stall-holders and attendance levels at 20,000 per market.
"Due to demand from both customers and designer makers, Shop Handmade doubled in size between our opening in April 2010 and January 2012," Julie said.
Handmade Canberra have also been recognised with other awards including: Finalists in the 2012 Telstra ACT Business Awards; Winner of the Canberra Business Point awards 2012 and a commendation in the Canberra Tourism awards 2012.
Last financial year Handmade Canberra had 220,000 customers, generated over 2 million in sales for their designers (172 in the Shop currently and 150 at each market event).
Congratulations to Handmade Canberra on their win at the 2013 Telstra ACT Business Awards. It is just recognition for a terrific and innovative Canberra business.
City Walk Blvd, Canberra City | T 02 6156 3274