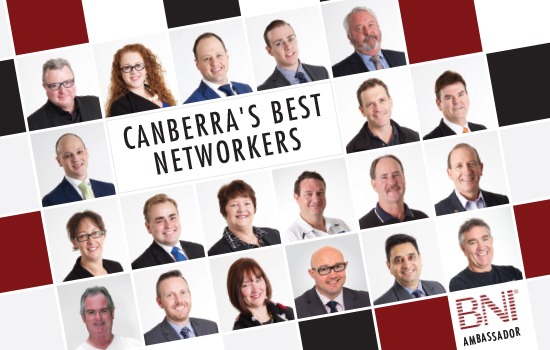 Hi, I am the current President of the BNI Ambassador Chapter that meets every Tuesday morning 7 am to 8.30 at the EQ Caf in Deakin. We meet every week to network, develop a solid understanding of everyone's business and most importantly pass referrals to our fellow members. We believe in the BNI key principal – Givers Gain – if you give business to others then they in turn will give business to you.
The Ambassador Chapter has a diverse membership – from lawyers to painters and plenty in between. The categories in BNI Chapters are exclusive – once you claim your category it is locked in – so we have 1 Real Estate Agent; 1 Financial Planner; 1 Electrician and so on.
The Ambassador team is in a very proactive growth phase at present as we know that a strong diverse Chapter means good return on investment for all members.
We have members who belong to large corporate entities right through to many who are Sole Traders and work from a home office. I am one a Sole Trader and I occupy the Health / Wellness Category – one of the main reasons I joined BNI was to join a team of business people who get the importance of building relationships, word-of mouth referrals and the value of combining all of the networks of all of the
members in the Chapter.
Newsletter
We package up the most-read B2B Magazine stories and send direct to your inbox. Subscribing is the easiest way to keep up, in one hit.
So, do you have the capacity for more business? If you do then BNI may be for you. Our team generated over $1 million worth of completed business last year and we are on track to exceed that this year. Jump on our Chapter's website http://www.bniambassador.com/ and check out the team. If you rely on business referrals for new business, chances are that you could build your sales revenues substantially by joining a BNI chapter.
If you'd like to experience how BNI works and get a feel for the people and dynamics of the meeting – come along to one of our breakfast meetings and meet us – just click on the Book Now tab on the website or call me 0404 729 522 for more information.
Our meetings are lots of fun and a great way to start the day but most of all the model makes perfect business sense. Join us for a delicious breakfast and see for yourself!