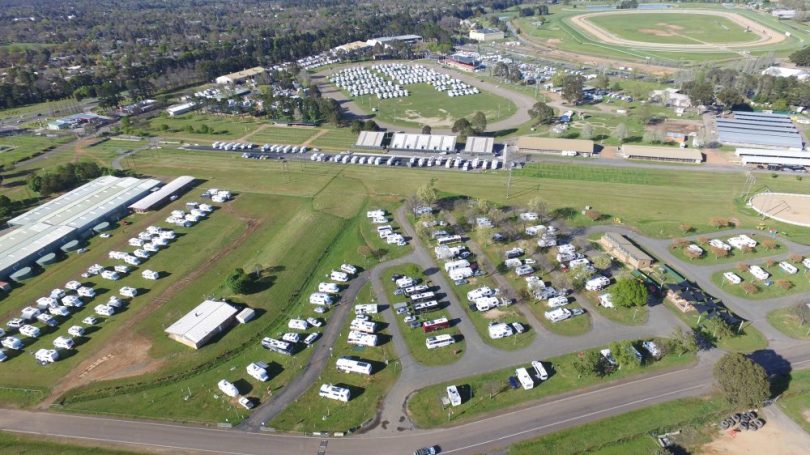 It was 12 months in the planning, many were in the region for 5 weeks and the Rally ran for 7 days. That was the CMCA's 31st National Rally held at EPIC from 8 – 14 October 2016. The 240 strong Volunteer team warmly welcomed over 1300 people in 720 vehicles to an unseasonal cold and wet Canberra. Registrations were well down, due to flooding and dangerous roads around the country. The Rally attendees rugged up and set about enjoying what the rally had to offer and the National Capital.
A free off-peak Action bus pass proved to be very popular, by providing the opportunity to explore the City, visit the National buildings and Canberra tourist sites and spread the money around. Obvious by our CMCA name badge and rally ribbons, bus drivers gave directions and locals shared their wealth of knowledge and interesting information on their city. Every day we ran a bus to and from the Dickson shops, so people could stock up on essential supplies.
We shopped, hired and purchased everything we could, locally. Our financial contribution to the Canberra economy will essentially be around $2million.
Local Entertainers were showcased during the week with a wonderful Entertainment Programme that included the Woden Valley Youth Choir, Leg's Dance Studio, Blamey Street Big Band, the Old 45's, Smooth Ops and Second Movement.
Newsletter
We package up the most-read B2B Magazine stories and send direct to your inbox. Subscribing is the easiest way to keep up, in one hit.
Several donations to local organisations were made during the rally week. $3300 was donated to Clare Holland House, $2250 was raised for the Snowy Hydro Southcare and 62 rugs and various other craft items, including baby booties, beanies and x-ray bags were donated to the Canberra Hospital Foundation.
Many local businesses supported the rally and the CMCA would like to thank the Tradies Group, Barlens Hire, the ACT Government, Beyond Bank, Switched on Cycles, Peter Funnell Entertainment, O'Brien Smash Repairs, Blackhawk Logistics, National Zoo and Aquarium, Cockington Green, Hire a Guide, DogsACT, Balloons Aloft, Hertz Mitchell, Golf Cars Canberra and Scooters & Mobility.
Thanks Canberra for making the CMCA so welcome.
By Cathy Lee, Canberra Rally Manager
For more information on CMCA visit website www.cmca.net.au/or call 02 4978 8788.