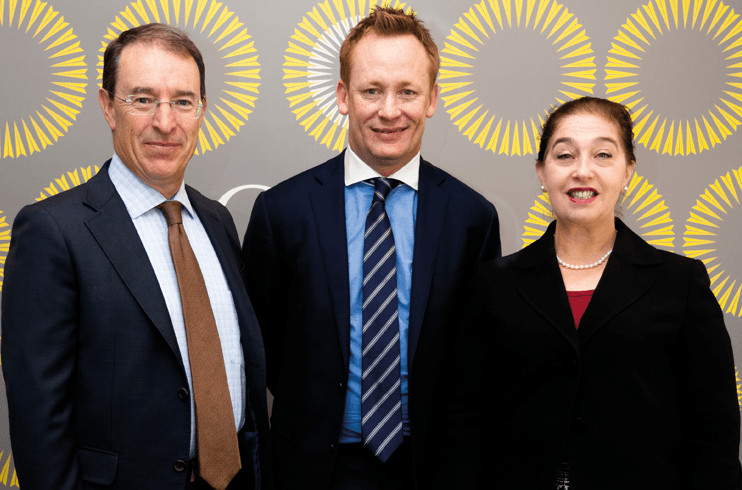 Callida was formed four years ago from many of the partners of another Canberra success story, Acumen Alliance after they realised there was no large mid-tier consulting company left in Canberra to provide specialist, reliable and value-for-money consulting to Government.
Since that time, Callida has grown in capability and capacity, and earned a reputation for delivering every time. With over 60 staff Callida is experiencing unprecedented demand for its services from clients who have grown tired of high fees for less skilled or junior staff.
In 2015 Callida established a labour hire, contracting and recruitment business called Callida Resourcing.
The Callida partners recently undertook an exercise to determine what it is their clients liked about them. Two very strong messages came back: the quality and integrity of their people, and their higher than usual level of commitment.
Newsletter
We package up the most-read B2B Magazine stories and send direct to your inbox. Subscribing is the easiest way to keep up, in one hit.
At Callida, commitment is more than a promise. Many clients would appreciate this having being 'promised' outcomes by firms that never materialise. Callida is committed to delivering outcomes to their clients.
From small beginnings, Callida is now being asked to undertake large and more complex assignments. Assignments that would normally be given to national and multinational companies are now being delivered by this local success story.
Some of the engagements undertaken by Callida include: reforming and managing the systems accounting function for a large government department, contract management for two very large, complex and high profile contracts and process and systems improvement in numerous departments.
As a result of this demand, Callida has sought to deepen their capability through three strategic hires with Cade Brown joining to strengthen the Assurance offer, Carla Negrin joining to strengthen the Portfolio, Program and Project Management offer, and Andrew Robson joining to strengthen their Strategic and Operations consulting.
Andrew is Callida's Management Consulting practice leader. Previously, Andrew carried out a number of senior service delivery and consulting roles, including: PwC's and Strategy&'s (formerly Booz & Co) Federal Government operations practice leader; Hewlett-Packard's national public sector enterprise director; and Deloitte Consulting's Federal Government practice and SAP leader.
He is passionate about public sector reform with a particular focus on productivity and capability building and specialises in a broad range of disciplines, including:
Public sector reform
Case for change and outcome/benefit measurement
Capability-driven strategy and capability building
Business/enterprise architecture and operating model design
Roadmapping and rigorous portfolio and program management
Technology-enabled transformation
Service delivery
Public-facing multi-channel service delivery
Corporate back-office operations and shared services
Andrew is excited at the opportunity to augment Callida's offerings by building out its strategy, operations and program/ change management capabilities. These new capabilities will deliver on Callida's ambition of being a leading, full service provider.
Carla is excited to be joining Callida's Management Consulting practice as an
Associate Partner after having spent the last five years at one of the 'Big 4'. Carla has a wealth of experience in Portfolio, Program and Project Management and has worked with a range of Federal Government clients in delivering large scale reform and transformation programs. Key clients have included the Department of Social Services,Human Services in Aged Care reform; the Department of Health revising their Chart of Accounts; the Department of Defence Human Resources Shared Services reform and in initiating capability maturity improvement activity at the Australian Transaction Reports an Analysis Centre (AUSTRAC).
Carla combines this with extensive commercial sector experience with over 20
years advising Industry in a range of support functions, general process improvement and in enabling end-to-end ICT programs that reduce total cost of ownership and importantly improve business operational performance. Much of this time was spent within the Australian Telecommunications industry in Melbourne.
Carla enjoys the Canberra lifestyle and keeps busy outside of work hours with her husband and two teenage boys. When time permits she enjoys travel and is noted for her Italian cooking.
Cade recently commenced as a partner in the Assurance and Financial Management service offer. He was previously with PwC and WalterTurnbull prior to their merger in 2010. Cade has worked in internal audit in both the Commonwealth and ACT Governments as well as leading major financial management assignments at large agencies. Cade will look to leverage off a strong network which has been developed over fifteen years in business, being involved in high level sport and through being a board member of a number of Canberra's not for profit organisations. He has a history of building strong relationships and working closely with his assurance clients to deliver real and fit-for-purpose solutions.
Outside of work, Cade is a passionate North Melbourne supporter, enjoys fishing in the Snowy Mountains and loves spending time with his wife Sonia and kids Archie and Alessandra.

[email protected]
Tel:(02) 6162 3339
www.callida.com.au
17 Murray Crescent, Griffith ACT 2603
PO Box 4207, Kingston ACT 2604