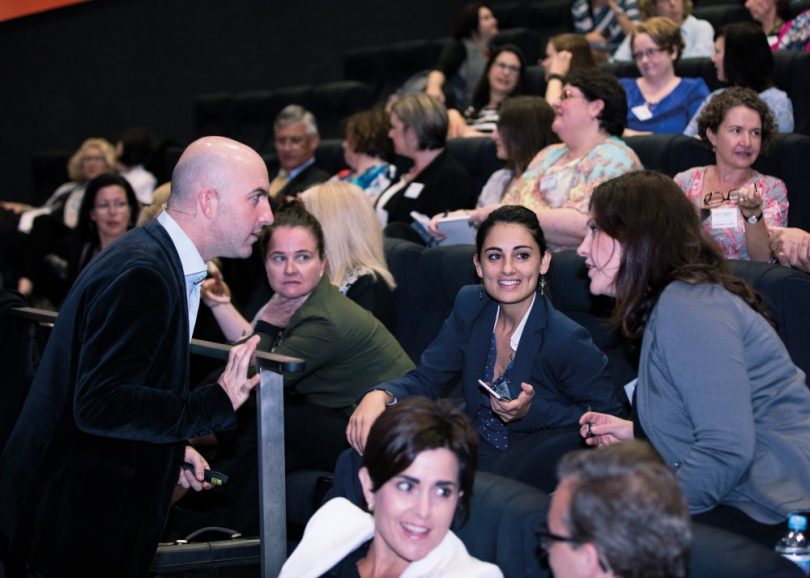 Photo : Richard Tuffin
'Convergence – Optimising your organisational change' is back in Canberra on 7 -9 March 2017 at the National Museum of Australia. Attracting over 40 national speakers across the 3-day event, Convergence is bringing people to Canberra to have a conversation on change management. With an ideas marketplace, a digital showcase, 5 streams of masterclasses, and 3 full-day workshops, the event is the brainchild of Redgrass Communications founder, Sonia Irwin.
"I am really excited about where Convergence 2017 is headed. What started as a pilot event on change management in 2016 is quickly evolving into something much larger than I had anticipated. The demand by speakers to come to Canberra and talk about change management has been intense, and we are fielding sponsorship enquiries," said Sonia Irwin.
When Sonia was creating Convergence 2016, she was working with Virginia Haussegger, ABC TV's award-winning TV news journalist. During the initial panel briefing session, Virginia was intrigued about how Sonia had managed to convince 25 speakers to come on board.
Newsletter
We package up the most-read B2B Magazine stories and send direct to your inbox. Subscribing is the easiest way to keep up, in one hit.
"Virginia asked me why was I doing this? As a communicator, I'd been involved with government change programmes for over 15 years. I was frustrated in seeing the same problems being repeated. I'd just finished a contract and felt I had to draw a line in the sand".
"Convergence had been on my mind for a while. I was hunting around for more education on change management. There are a lot of training organisations, offering different methodologies around change." Sonia was also studying a Masters in environmental science at ANU Crawford School at the time. She was fascinated why climate change was not getting the traction needed and the resistance to the change. It was in a semester about the Paris CoP21 treaties, that Sonia had her 'A-ha' moment'.
"I realised that I could affect real change by helping others get better at change management. What was missing for me was the nexus point, the ability to have a conversation about how to optimise change with a people focus. Convergence was born out of an intense desire to create a conversation and a community to share some of the best practice thinking in Australasia and beyond about change management. Whether it's a large-social change like climate, or the introduction of a new IT system in an organisation, the challenges we face as humans are the same. It's more than just survival, it's about self-actualisation," Sonia explained.
Change management as a profession is undergoing its own revolution. The industry is seeing a range of new approaches that include research from neuroscience in how our brain works, new capability assessment tools such as the Change Capability Model from Deakin University and Change Synergy(formally ChangeFirst Australia), to new IT solutions on how to manage change from innovative companies such as Ralleo.
"We have really exceeded our own expectations on speakers and presenters at Convergence. We open on day one with renowned futurist Tim Longhurst talking about disruption trends, and close with professional speaker and previous Royal Australian Navy Commodore and Director General Military Strategy, Martin Brooker who will talk about courage under fire. With the range of master classes, leading edge thinkers, and professional speakers, I think Convergence is offering something innovative to our participants.
"The nice thing is I also get to encourage people to come to my hometown, Canberra, and enjoy the Enlighten festival and Night Noodle Markets. I'm very focused on sourcing local suppliers for Convergence, and it's been wonderful identifying small businesses that can help me build this idea," Sonia concluded.
Convergence Australia 2017 opens ticket sales in December 2016. If you would like more information or to be involved, please email [email protected]