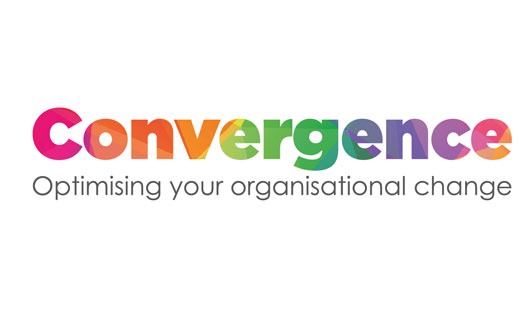 Complexity and disruption is the name of the game. The catchcry in response is the notion of agile and flexible workplaces. However, trying to play catch-up to a new mode of working is very hard in a large organisation.
"The questions that come to mind when I hear that we need to be innovative, adaptable and agile is that while this sounds like a great place to be, most organisations are still trying to keep their change programmes and core functions on track. While it's important to move to a future state, I'm also thinking about how we keep our head above water with all this change" said Sonia Irwin, founder of Convergence Australia.
Sonia Irwin, through her start-up consultancy, Redgrass Communications and her creative work Convergence 2016, has a wealth of experience in tackling large change management programmes. Sonia is now focused on creating conversations on optimising organisational change through educational events, networks, and strategic change and marketing advice to both government agencies and businesses nationally.
"One of the things we are looking at for Convergence 2017 is how to implement change successfully when your organisation brings in consultants and contractors" said Sonia. "We're really keen to have a conversation around this, and I am very excited with the panel line up that is forming to tackle this question. How do you get the balance right?"
Another area of interest for Convergence is the application of both Agile and Innovation and what it means to change capable organisations. "Most recently, the local chapter of the Change Management Institute, of which I volunteer, held a fascinating discussion with David Hazlehurst, acting Deputy Secretary at Industry, Innovation and Science. One of the core messages from the event is that happy people are more likely to be innovative. It was a really good conversation around the application of Agile, being innovative while also changing the organisational culture. We are taking this conversation further at Convergence 2017, as there was so much more to talk about".
Sonia is now seeking sponsors and speakers for Convergence 2017. "What we are seeing is a range of methodologies being co-opted to help with change, bespoke solutions evolving, and some significant shifts in thinking about how to keep people on board for the change journey. There are also some really exciting thought pieces and technology that will be coming to market soon. Convergence will play a part about building awareness and conversations around these new ideas."
If you are interested in speaking/ sponsoring Convergence 2017, please contact Redgrass Communications at [email protected]