If you were in Canberra and anywhere near a radio, newspaper or television on 7 June then you probably know the ACT Government handed down its 2016-17 Budget – much to the interest of the media and public.
All government budgets are intensely scrutinised, but perhaps none more so than an election year budget due to the inferences that can be drawn about the policies the incumbent will take to the electorate and how far they are confidently looking ahead.
When it comes to business, this year's ACT Budget is fairly forward looking, although the Chamber would have liked additional strategic growth measures to have been unveiled.
An increase in the payroll tax threshold from $1.85 million to $2 million is welcome. This is good for all businesses, especially small business. This will exempt 40 businesses and reduce costs for many others.
However, one of the overarching goals of the ACT Government is to return the Budget to surplus and our analysis of the figures presented last month suggests this could be a challenge. According to the Budget's expenditure and revenue trends, the ACT Government – whichever party that might be next year – will, at a minimum, have to keep spending at current levels.
Retaining spending at current levels is difficult. Spending tends to go up each year, even if only because it has to reflect an increase in the price of goods, services and payroll expenses. To keep it stagnant, or even reduce it, can be tough.
Newsletter
We package up the most-read B2B Magazine stories and send direct to your inbox. Subscribing is the easiest way to keep up, in one hit.
Therefore, it is important to find ways to deliver high quality government services in the most cost-effective way. One way this might be achieved, is by letting the private sector use its expertise and innovation to discover better ways to do things.
The Government is looking for measures to make service delivery more efficient, for example it is focused on digital efficiency.
The Chamber believes there are further efficiencies that could be gained by outsourcing service delivery functions to the private sector where it can be demonstrated this would be more cost-effective.
The 2016-17 ACT Budget contained a number of initiatives funded over coming years that will help diversify and strengthen the local economy.
This Budget contained around $700 million in new infrastructure investment, bringing the total over four years to $2.9 billion.
A key infrastructure investment is upgrading Pialligo Avenue. With international flights and the accompanying air freight opportunities only a few months away, we need to focus on facilitating entry into the export fray and removing the barriers to export growth. Road connections like Pialligo and other infrastructure investment will be vital.
Infrastructure investment creates construction and jobs and helps the ACT strive towards the livable city the Chamber envisions as part of its Destination 2030 – A Vision for Canberra.
Investment in tourism marketing and events will help bring more visitors to the national capital. The additional $8.8 million in this Budget is a move in the right direction, but Canberra Business Chamber believes this needs to be almost doubled to bring the ACT into line with spending in other jurisdictions – jurisdictions we compete with when it comes to attracting tourists.
The Chamber is disappointed other measures from its Budget Submission have been overlooked. It was seeking support for ideas to strengthen relationships between the business, education and training sectors to build our future workforce and to increase trade opportunities.
While the Chamber would have liked to see the measures it proposed included in the Budget, the ACT Government must be commended for its commitment to working with business in other ways to identify and secure trade opportunities.
The ACT Chief Minister's Export Awards are now open. This is a great forum to celebrate the achievements of local businesses and it provides a chance for applicants to access support and advice from export professionals and make new connections.
If you are a business who is proud of its export successes, please consider entering the Awards. The application process lets you reflect on all you have accomplished and think about next steps. Being part of the Export Awards can help a business increase brand awareness and generate marketing opportunities. To learn more,
visit: actexportawards.com.au
Robyn Hendry, CEO
Canberra Business Chamber
www.canberrabusiness.com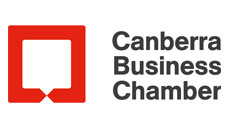 APPLICATIONS ARE NOW OPEN
For the 2016 ACT Chief Minister's
Export Awards
The ACT Chief Minister's Export Awards
are the Territory's most prestigious business
awards. They acknowledge the innovation,
hard work and success of businesses, large
and small, in reaching new global markets.
Visit actexportawards.com.au to
APPLY NOW!