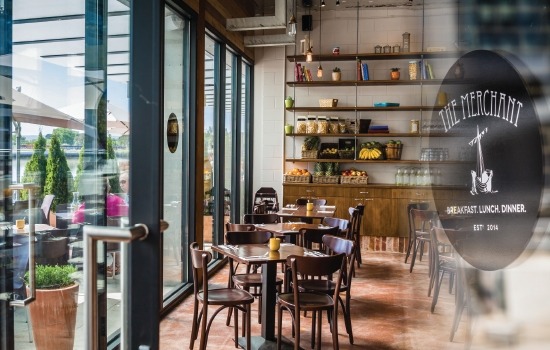 The Merchant
bringing life to Kingston Foreshore

Local entrepreneur and business owner Beatrix Nagy has launched her most ambitious project to date – opening three new businesses at Kingston Foreshore.
These are:
The Merchant, a caf and restaurant serving European based modern Australian dishes for breakfast, lunch and dinner, seven days a week from 7am – 10pm.
Newsletter
We package up the most-read B2B Magazine stories and send direct to your inbox. Subscribing is the easiest way to keep up, in one hit.
Prohibition – The Bottle Shop, a place where you can get your usual loved drinks, specialty items, Cuban cigars, soft drinks, mineral waters, last minute presents like specialty chocolates snacks and nuts to complement your choice of drink; and
The Market, a grocery store for the residents of Kingston Foreshore, where they can get their bread, milk, newspapers, magazines, cold drinks, fresh fruit, fresh vegetables, gourmet deli items, fresh flowers, baby care and more.
An already accomplished businesswoman, having established the successful Apartments by Nagee four years ago, Beatrix views these three new ventures at Kingston Foreshore as example of how much Canberra has grown in the past decade. The Merchant is the 'flagship' of Beatrix's new ventures.
"I view Kingston Foreshore as the Darling Harbour of the ACT. The Merchant brings alfresco, Modern Australian, waterside dining to Canberra," Beatrix said.
"The Merchant is not only a 'local' for the burghers of Kingston Foreshore but also a place where Canberrans from all over come to walk their dogs, ride their bikes, go to the Markets and then drop in for a coffee and something to eat."
Beatrix has been fortunate to assemble one of Canberra's most established kitchen staffs, led by Executive Chef, Steve Sweeney and sous chef Dean Taylor.
"At The Merchant we aim to provide a sophisticated yet relaxed dining experience all day, every day, offering classic loved dishes as well as new exciting flavours," Steve explained.
Steve says that he respect the produce and tries to put the best ingredients possible on a plate.
"Chefs are like technicians and artists. The food has to speak for itself. If I put bad produce in a dish it will reflect on the chef and the business. The better the quality of the produce: the happier the client," Steve said passionately.
"I have a great rapport with our butcher and fish supplier who supply us with excellent quality produce. We have fresh, unfrozen, cakes from Sydney the cheeses are flown in from France and Spain."
Steve also goes to great pains to outline the fabulous Australian and local produce that are also used and available at The Merchant, Prohibition – The Bottle Shop and The Market.
And that's not all The Merchant can also cater for your business or private function and from Friday to Sunday a waterfront grill will be operating for dinner, serving offerings such as German sausage and sauerkraut, grilled corn on the cobb and wagyu skirt.
In addition to these terrific achievements Beatrix will also be hosting live music at The Merchant each Friday evening from 6:30pm, up until Christmas.
"I have also booked the M5 Jazz Quintet, a full band complete with trumpet, saxophone, guitar bass and drums, to entertain diners in the beautiful weather leading up to Christmas," Beatrix said excitedly.
The Merchant will also have a Christmas Eve and New Years Eve exclusive gourmet buffet with limited tickets, with, The Method, a full nine piece band playing hits from the 60s to now.
For further information and bookings for The Merchant for Christmas Eve and New Year's Eve go to:
www.themerchant.com.au or call 6162 1359