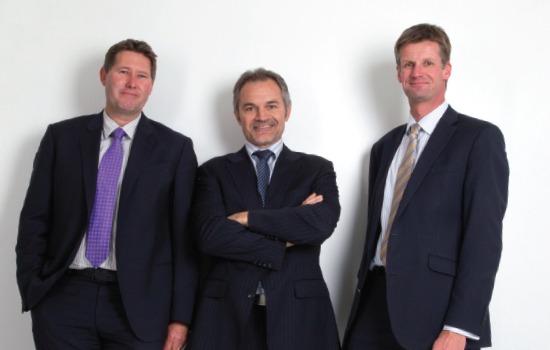 Fifteen years since its establishment, a small Canberra based business has been quietly growing and building into an agile, dynamic professional services firm specialising in the business of government. This month, Apis reaches a "mini-milestone" of 50 people, and is relaunching its brand, image and website in readiness for a very busy 14/15 financial year under the direction of business partners, Anthony Honeyman, and Nigel Nutt, and Tim Ryan.
Partner and Director Anthony Honeyman explains: "Unlike many of our competitors Apis prides itself in being a permanent employee model, where from partner down we work directly with our clients to support
them, deliver and achieve positive outcomes. We recognise that through the recent Commission of Audit recommendations and the Federal Government's budget announcements, there is increasing pressure
on government agencies to deliver on the Government's commitments while also realising substantial internal efficiencies."
Anthony says, "It is for this reason that government is looking to work with mature organisations who bring real delivery experience to the table and maintain a commitment to the achievement 0f good outcomes."
Now, more than ever, Apis is positioned to support government through the provision of core service offerings: project management, business process design, procurement, program evaluation and strategic planning.
Newsletter
We package up the most-read B2B Magazine stories and send direct to your inbox. Subscribing is the easiest way to keep up, in one hit.
Apis is proud of the track record it has established in supporting the delivery of major government initiatives. "We're playing a pivotal role as a service provider to government in the delivery of a number
of policy initiatives of national significance," Honeyman explains, "and these are progressing rapidly over the coming months."
One example is the $200 million My Aged Care program. Apis has a team leading the business design and procurement, and supporting program management within the Commonwealth Department of Social
Services. Last year, the program delivered a national contact centre and new My Aged Care website. In 2015, further capability will be delivered, including a central client record and standardised assessment framework for aged care services in Australia.
"It's a big part of the Australian Government's changes to the aged care system," Anthony says. "It's about giving people more choice, more control and easier access to services. We have worked across
the sector, engaging with consumers and service providers and state and territory governments in designing the system."
For the past several years, Apis has also actively supported the Department of Health in the delivery of Australia's national electronic health record system which today spans thousands of registered health
organisations with more than one and a half million registered participants. Apis' involvement stretches from implementation planning through to establishing and running the program management office and supporting the procurement process for the engagement of system integration partners.
"Most of our work is delivered on-site," Anthony says. "We work alongside client personnel, generally in blended teams. The culture we've instilled in the organisation has been about focusing our efforts on delivering high quality outcomes. We don't believe in being a slave to methodology; we're all about fit-for-purpose approaches to project delivery.We recognize that project delivery requires the management of risk and we work with our clients to respond to emerging issues, while remaining focused on the achievement of outcomes."
Recipe for continued success
"Despite the national profile of projects with which we are affiliated, historically Apis has shied away from seeking industry accolades. We don't market ourselves as actively as perhaps we should, because we
have succeeded in building business from referrals and repeat work, founded upon our growing reputation for successful delivery" says Apis partner Tim Ryan.
"Our success reflects the skills, qualifications and professional dedication of our staff. It's a bit of a paradox that people with the breadth of backgrounds of Apis consultants can bring such a consistent business culture and work ethic to all our assignments," Ryan observes. "Our company includes people with backgrounds in health, IT, science, technology, engineering and senior public sector management, many with PhDs, MBAs and other post graduate qualifications. The common thread here is a desire to make a difference, work on large and challenging projects, problem solve and help our clients to succeed in delivering. All of this is underpinned by pragmatic and government focused approaches and techniques in which all our people are trained."
"We are a dynamic professional services firm specialising in the business of government.
Prior to joining Apis, the three partners came from very different backgrounds. Nigel had a successful career in engineering having completed a PhD at Oxford University and subsequently working on major international mining and offshore projects for BHP. Tim spent a decade as an officer in the Australian army before embarking on a management consulting career in Melbourne, with a particular focus on financial services and logistics. Anthony was previously a senior executive in government, having worked in policy, service delivery and central government agencies.
"As a partnership group we are very close. We share the same values when it comes to running a professional services firm, which is first and foremost about exceeding the client's expectations," Anthony says. "While we are respectful of each other's views we constantly challenge each other to ensure the advice we provide and the directions we take best place the client to achieve good outcomes," Tim added.
Importantly Apis also strives not to take itself too seriously. "We have a mature workforce who are highly motivated to succeed, have a track record for delivering, and genuinely enjoy the company of their
colleagues and clients. This creates a positive environment in the workplace, keeps morale up and ensures that we celebrate success together along the way," Anthony says.
Why are the Apis partners using fencing swords in this story? Nigel Nutt laughs, "The photos are a little corny, but we had a lot of fun at the photo shoot. There are a number of messages reflected in the use of a fencing sword as a prop. Firstly, we're an active contributor in the community, notably as a primary sponsor to the Australian Fencing Championships held in Canberra for the past three years. We place importance on staying connected to the Canberra community through supporting numerous sporting and charity initiatives".
"The sword also reflects that we're an organisation of people who are up for a challenge, not just in the work place," Nigel says. "Within the company we have lots of people with a wonderful array of talents,
each a high achiever in their own right, whether it be in sports like fencing, cycling, triathlon, golf, skiing or marathon running, or in the arts, academia or other pursuits. This typifies the Apis consultant, and the
high motivation our people bring to the workplace, on site with clients."
But the company doesn't rest on its laurels, and there is a strong focus on responding to the emergent challenges faced by many of its government clients. While economic conditions remain tight, Nigel
believes that organisations will come under growing pressure to deliver on their core services within their cost base. "Increasingly this will demand assistance from professional services firms like ours to support the re-engineering of business processes and provide disciplined approaches to project management across the organisation".
"For this reason, we've just gone through an internal process of business improvement ourselves, strengthening our capabilities, deepening the skills and qualification of our staff, recruiting more talented people and broadening our service offerings. This will be displayed for all in June and July with an upcoming relaunch of our website and refresh of the Apis logo." Tim explains. "We're confident that Apis will continue to deliver a great offering to the government sector into the coming years."
Apis is a professional services firm specialising in project management, business process design, procurement, program evaluation and strategic planning.
Contact
A4/18 Bentham Street, Yarralumla ACT 2600
T: 02 6206 000 | www.apisgroup.com.au