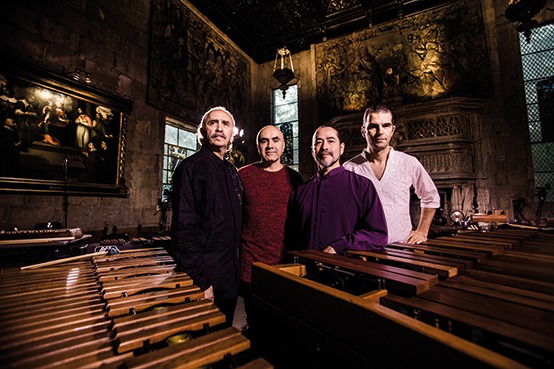 Indulge your senses with music, art, wine and food at the 2016 Canberra International Music Festival (28 April – 8 May). Over the course of eleven exhilarating days, musicians from around the world will gather in Canberra to create a feast for the eyes and ears, bringing music and food together in perfect harmony in a series of culinary adventures.
The Chefs of Canberra Festival Gala Dinner, the Festival's annual celebrity dinner, kick-starts the 2016 Festival at the National Arboretum on Thursday 28 April at 6:30pm for 7:00pm start. Canberra loves classy food and appreciates a fabulous location, so the Festival is offering Canberrans a feast – a three-course degustation meal prepared by some of the finest chefs in Canberra and six musical virtuosos for a taste of what's to come.
For Roland Peelman, Festival Artistic Director, the Chefs of Canberra Festival Gala Dinner represents all the good things in life:
"This dinner has great food and drink matched by superb musicians and supreme conviviality. Now that the Festival has become such a prominent fixture in the calendar,this is the best way of starting the Festival with a bang!"
Newsletter
We package up the most-read B2B Magazine stories and send direct to your inbox. Subscribing is the easiest way to keep up, in one hit.
Throughout the evening, six artists from the Canberra International Music Festival will perform for the guests. Direct from Mexico City, is Tambuco percussion. Described as one of the world's greatest percussion ensembles, Tambuco use every conceivable means to play percussion.
"working wonders with myriad instruments and even the musicians' bodies (hands, wrists,fingertips, voices)." The Washington Post
Tambuco are supported by the incomparable James Crabb (UK) on accordion
and golden boy, Andrey Lebedev (Australia/ UK) on guitar.
The chefs in the kitchen this year are Sean McConnell and Dan Flatt from Monster at Hotel Hotel, John Leverink from Boathouse by the Lake and Podfood, and F.J. Bodel from The Conservatory. Joining them in the kitchen is the team from Ginger Catering. Last year's Chefs of Canberra Festival Gala Dinner was a sell-out success and this year is expected to be no different, with tickets selling fast.
If you are looking for a more casual intimate dining adventure, the Festival and Muse welcomes home Canberra-born,New York based classical guitarist Rupert
Boyd in the Festival Supper @ Muse (TUE 3 May, 8.30pm)
"Beautifully refined, with gorgeous tone…musically and technically flawless." Soundboard Magazine.
Described as "truly evocative" Boyd, a graduate of the ANU School of Music returns to his old stomping grounds of Canberra to participate in Canberra's premier music event,and to promote his new CD Fantas as.The evening includes a two course late supper (including wine, coffee/tea) with live music performed by one of the most acclaimed musicians of his generation. Spaces are limited so book your tickets today.
The Poacher's Way Festival Trip (Thursday 5 May, 9.00am to 3.30pm) takes you through the beautiful rural surrounds of Canberra.Travel by coach to Bungendore Wood Works Gallery and admire some of Australia's best craftsmanship, plus coffee and sublime music. Journey on, where at Eden Road Wines more music and wine tasting awaits. The final stop of this Festival Trip is Poachers Pantry where our Festival artists offer exquisite musical morsels followed by a delightful two-course lunch and champagne.
2016 CANBERRA INTERNATIONAL MUSIC FESTIVAL
A vibrant fusion of expertly created music, iconic performances both daring
and intimate, exceptional music mixed with culinary surprises – that's the Canberra International Music Festival: 28 April to 8 May 2016, an annual treat for Australia's culture vultures. Full program information and tickets are available at cimf.org.au
EVENT DETAILS
Name: Canberra International Music Festival 2016
Dates: Thursday 28 April to Sunday 8 May
Tickets: cimf.org.au For enquiries, call 02 6230 5880 (Mon-Fri 9.30-12.30)
CHEFS OF CANBERRA FESTIVAL GALA DINNER
Date: Thursday 28 April 2016
Time: 6.30pm for a 7.00pm start
Cost: $200 per person, including a three course degustation meal, beverage package and performance
Venue: National Arboretum
Bookings: cimf.org.au
FESTIVAL SUPPER @ MUSE
Date: Tuesday 3 May 2016
Time: 8.30pm
Cost: $65 per person, including a two-course late night supper (including wine, coffee/tea) and performance
Venue: Muse, East Hotel, 69 Canberra Avenue,Kingston, 2604
Bookings: Book online –https://www.trybooking.com/KXXE
POACHER'S WAY
Festival Trip
Date: Thursday 5 May 2016
Time: 9.00am to 3.30pm
Cost: $120 per person, all inclusive (transport,morning tea, wine tasting, 2 course lunch with champagne and wine plus three concerts)
Venue: Departing from Canberra's inner south
Bookings: cimf.org.au